Lee Hatfield
---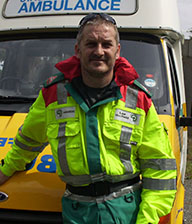 ---
I am ex RAF, after spending 6 1/2 years in the Military from 1985 -1991, I completed 1 tour in the Falkland Islands, I then decided that i wanted a change of career and joined the Fire Service, after spending about 13 years as a Firefighter, I decided on another, but similar career change, and trained to become a Paramedic. After spending 12-13 years as a Paramedic, and after marrying a Canadian, I made the move to Canada and currently live in Ottawa.
I have been interested in History for a long long time, and oddly enough, only started researching my family tree after i had emigrated.
I am happy to say i have found 2 photos from the TWGPP, and hope to find more.
After being impressed with Steve's amazing service i decided to volunteer, and will be visiting the National Military Cemetery in Ottawa, to obtain some pictures very soon
---
Volunteers
The project relies solely on volunteer help. If you believe you can help in any way (photographing, admin, sponsorship, etc) then please contact us. If you would like to help with the photography please download the Guidance and Volunteer policy PDF via link on the volunteers page.