About The War Graves Photographic Project
---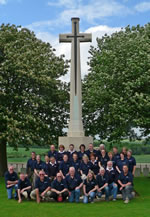 With today's technology it is easy for people to plan a trip to a far off place, book all flights, hotels and car hire on the Internet all from the comfort of their home and then go and enjoy their experience, be it holiday or business.
Even with these facilities that are readily available it is not so easy to do the same thing when planning to visit the grave of a member of the family who gave their all in any of the conflicts affecting their country.
The daunting task of planning specific travel, accommodation, transport - identifying and confirming location - arranging specialist help for the elderly and many other minor tasks that demand attention can seem to produce an insurmountable problem for those wishing to pay their respects.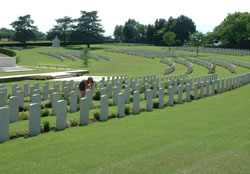 With this in mind and with the belief that ALL the graves and memorials to war dead and particularly those of the Commonwealth should be recorded for posterity, The War Graves Photographic Project have undertaken the immense task of recording, archiving and making available to the descendants, images of the graves or memorial listings of every service casualty since the outbreak of the First World War.
By utilising an archive of images taken by a dedicated band of volunteers situated around the world we are able to offer the facility to search for individual casualties and provide a photograph or digital image if required.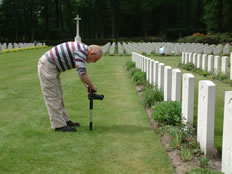 Such a task is reliant solely on volunteers who give freely of their time and ability to visit, record and catalogue the many hundreds of thousands of graves and monuments scattered around the world. These volunteers and their commitment are now at the disposal of individuals who seek photographs of their antecedent's final resting place or memorial.
To date (2021), we have been able to record over 1.9 million named graves and memorials and the task continues. Whether it is an individual covering a particular cemetery or churchyard or a team of volunteers working together as a group to cover a specific area of conflict, the aim of the Project is to record and make available, photographs of as many war graves and memorials as possible so that there is a pictorial record of yesterday's sacrifices for tomorrow's descendants.