Messages of Thanks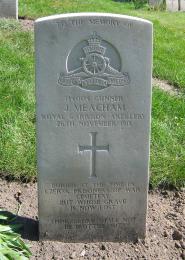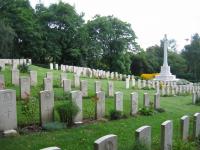 Pozan Cemetery, Poland
"28th August 2012 - On Thursday last week, 23 August, I ordered a hard copy of the photograph of my uncle's grave, and am pleased to confirm that I received it safely today; it is all I hoped for. Many thanks for your very kind and prompt service. I never knew my Uncle Joe: he died as a POW tragically 15 days after the armistice that ended World War 1 and, I suspect, as a victim of the 1918 influenza pandemic, a point that I hope some time to check with his regimental records. My late mother was his half-sister, and their mother was, of course, my dearly-loved grandmother, who spoke to me often of her eldest son. Born in 1933 and an ex-serviceman myself, I am partly-disabled and now not well enough to travel to visit the cemetery, so I do almost all my research online and am most grateful to you and all the others who make this work possible. My only surviving aunt, Joe's youngest half-sister, never expected to know what had become of him, much less see a photograph of his memorial stone. We knew only that his grave was (and still is) officially 'lost', a fact confirmed by the memorial stone. Incidentally, I find that Poznan Old Garrison Cemetery is the resting place of the ashes of those members of what became known as 'The Great Escape' who were shot on Hitler's orders when recaptured. The next man due out of the tunnel on its discovery and who, fortunately for him, didn't get out, is still alive and living some ten miles from me on Anglesey. With kindest regards, "
Dr H Bernard-Smith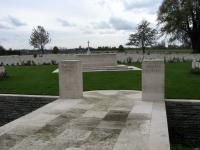 Pont Du Hem Cemetery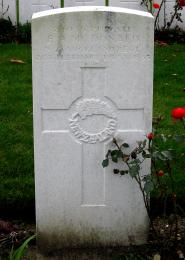 "26th August 2012 - thankyou so, so much.....this is brilliant and your efforts are to be commended. Only a couple of days ago, all I knew of him was that he was killed in action in France, so I can't tell you how excited I was to step-by-step slowly find all sorts of information on the internet. I now have a fairly complete picture and now to find where he is remembered and actually have a photo of his headstone, it is quite unbelieveable....keep up the good work! Thank you again for making this possible, I am thrilled with the photo and hope to visit the Cemetery in the near future. I hope you have a good day. Kind Regards, "
Kaye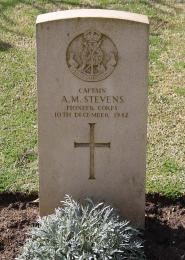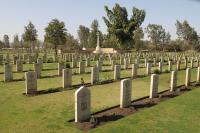 Moascar War Cemetery
"25th August 2012 - A big thank you for your prompt response and for the wonderful photographs. My mother (82) thought that her father's grave was just marked with a simple wooden cross and was delighted to be able to see the well-tended gravestone. Thanks again. "
Mrs Deb Atkinson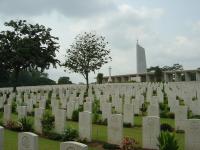 Kranji War Cemetery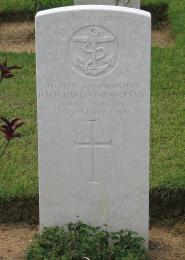 "25th August 2012 - We havn't met, but you were recently in touch with Peter Rymill, in Queensland Australia, about finding a photo of my fathers grave stone. He was Donald Montague Noel Davidson, and died on Tapai island, having taken cyanide, after an unsuccesful raid on Singapore. I have always wondered what his gravestone looked like, as I shall never see it, but thanks to you and Peter, I now know, and am deeply grateful, ---it really has healed the past. yours sincerely "
Caroline Davidson-Brewer.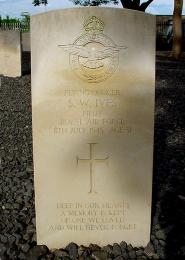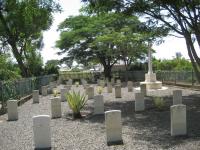 Kisumu War Cemetery
"25th August 2012 - I am absolutely indebted to you for forwarding the photographs of the cemetery and grave where my cousin Flying Officer Stanley William Ives is buried and await to receive the hard copies. It means so much to me and my family to be able to see the exact place. I think this is a marvelous service you offer to the public who take great comfort from it and are so grateful. Thank you so much. With warmest wishes "
Jean Bogle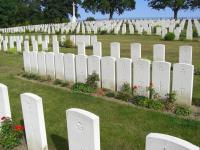 Hanover war cemetery
"23 August 2012 - Hi, Thank you for the picture. It would be wrong to say that you have made an old lady happy, but you have provided her with closure on something that happened almost 70 years ago, and helped to provide some reassurance that sacrifice is not in vain. Your work is valuable and it must be very fulfilling. Thank you so much. Best wishes, George Fletcher "
George Fletcher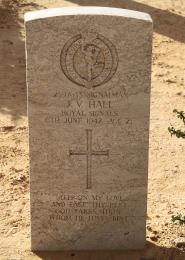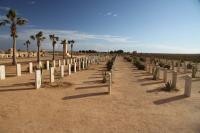 Tobruk War Cemetery
"28 July 2012 - Thanks very much for these fantastic photographs. I'd never dreamt that someone would have a photo of my great-uncles grave in a far off land. I stumbled upon the WGPP site by chance, via the War Graves Commission site, and found his details in seconds. A wonderful moment of serendipity that links me to a poignant piece of family history. Best wishes for your wonderful work, Kind regards "
Adrian Davis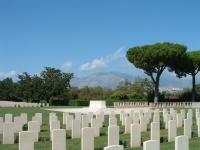 Minturno Italy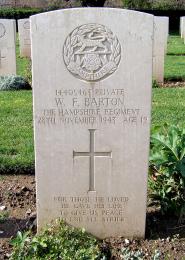 "26 July 2012 - Thank you so much for the photograph of Walter Frederick Barton's grave in Minturno War Cemetery, Italy, no. 14405463. He was my mother's brother and I was told at a very early age about him and how my mother had wanted some words written on his headstone but she was informed this could not be done. My mother is now the only one of her siblings still alive. She is 91 this year and has never seen her brother's grave. I cannot tell you what the photograph has meant to her as she saw that the words she had written all those years ago are on his headstone after all. Please thank all those who have taken part in this project as it has given great peace of mind to my mother who was his older sister. Yours sincerely "
Georgina Anderson-Glyden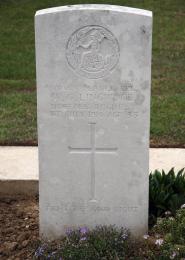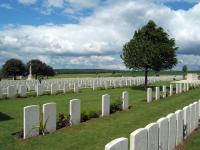 Dantzig Alley
"23 July 2012 - Brilliant photographs and a very efficient service, thank you so much. I have now completed my search and have included another four requests not including of course James William Gurney. James William Gurney was my grandmothers father, she has just celebrated her 100th Birthday about a month ago. For my grandmother this is a difficult request, because his body was never found, and is only decorated by the war memorial, as is the case of her Uncle Charles Edward Gurney. The amount of loss that has occurred in my search, is somewhat over whelming at times, but reassuring that people like yourself always keep the past alive. kind regards "
Tim Thompson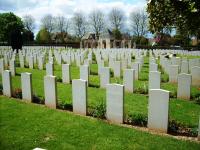 La Deliverande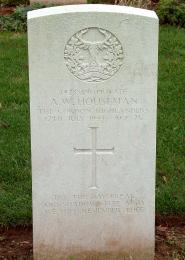 "15th July 2012 - Thank you for the photos that you so kindly sent this morning, much appreciated. I can not believe that after nearly 8 years of doing family tree research I only came across your web site yesterday totally by accident. It had often crossed my mind that someone may be cataloguing war graves but I never thought to look. The photos you sent finish off several years research in to the family members that we lost in WW1 &WW2. It is nice to have a grave or at least the memorial inscription for them. Please thank every one for their hard work. Good luck in the future "
Yours sincerely Gary Houseman