Messages of Thanks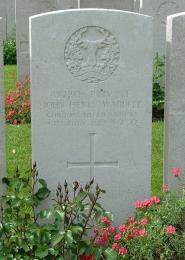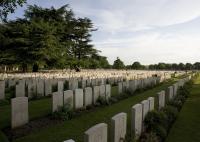 "17th June 2013 -Good evening. Thank you so very much for copies of your photographs of the war grave of Pte John Henry Waddell, Gordon Highlanders. We were so pleased to have found your website and can now show his niece, who is to old to travel abroad, her uncle's final resting place. I do not know how many people have been reunited, through your photographs, with family members lost during the 1st World War, but I would like to say what a wonderful service you provide - thank you. Regards, "
Garry Cooper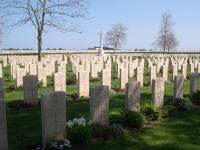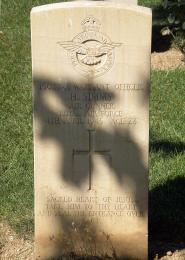 "16th June 2013 - Thank you for sending me the photographs of my relatives headstone in Italy and the memorial plaque in Iraq. Please pass on my grateful thanks to the hard working volunteers, who travel the globe doing this work. It means an awful lot to my family, to know that our ancestors have been remembered by the nation they served and that at last, we can see their memorials. It fills us with pride and comfort to know that their sacrifice has not been forgotten. Kind regards "
Paul McNally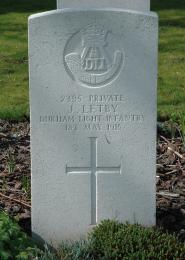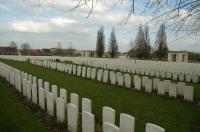 "3rd June 2013 - Thank you so much for this - did some research to find my great great Grandad we found the grave yard but couldn't believe you could actually see his grave never mind obtain a photograph - did this for my mum and tears rolled down her face - thanks to people like you for all the time it must have taken you to do this. Thank you sooo much "
lorraine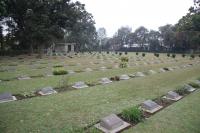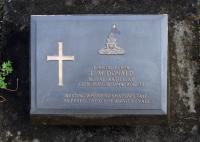 " 28th May 2013 Dear TWGPP Thank you very much for supplying these photos. We are so grateful to all those who have taken the photos and who run this project. My gran was delighted to see her brother's resting place (nearly 70 years later) which would have been impossible otherwise. Regards"
Claire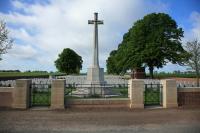 Euston Road Cemetery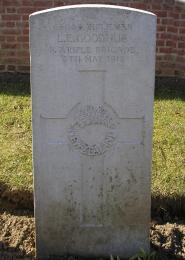 "21st May 2013 - Dear Team at TWGPP, I recently asked for and received photos of the headstones and cemeteries of four relatives who died overseas during WW1 and WW2., and want to say a very big thanks to you all for the effort that has gone into this project. Being able to have these photos is very much appreciated. Between my husband and I we have nine great uncles who served overseas during WW1 with three not returning home, along with one uncle from WW2 dying overseas. With no one in our immediate family being in the position to travel overseas and visit these sites themselves the photos are the next best thing. Once again, many thanks. Regards, Christine Burnett (NZ) "
Regards, Christine Burnett (NZ)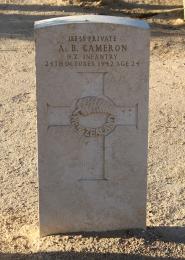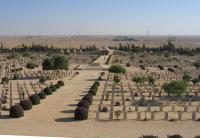 El Alamein War Cemetery
"7th May 2013 -Dear TWGPP team For many years now my mother has quietly grieved for her favourite uncle, who we learned recently was killed at El Alamein. While we knew he had died in the war we did not know where, until my brother in law somehow found a photo of Uncle Allan's gravestone on your website and was able to download it for my now-elderly mother. My Mum is not very unwell, and in her state of deteriorating health the photo of her Uncle Allan's grave has given her a chance to remember a happier times in her life, before he went away. It has given her a sense of peace and closure that was not possible before. We are so grateful for this small mercy, and for your grace in carrying out this special project on behalf of all service men and women and their families down the years. Thank you all for you kindness and dedication. Jan "
Jan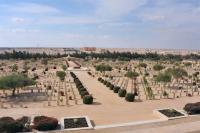 El Alamein War Cemetery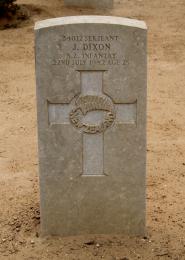 "26th April 2013 Dear TWGPP team. On ANZAC Day 2013 I felt it was right to find Nana's twin brother John (Jack) Dixon who was tragically lost before he could marry and have children of his own. Living in New Zealand, on the other side of the world, and seeing no opportunity to visit Egypt at any time in the future, your organisation has provided a wonderful avenue to remember our fallen soldier. Thank you all for the incredible work you are doing. kind regards "
Lisa Baty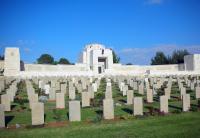 Jerusalem Cemetery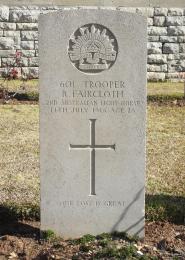 "ANZAC DAY 25th April 2013 - Thanks so much for this, it is ANZAC day in Australia so my family is so pleased to have the photo today. We are an English born but now Australian citizens, so to have had a great Uncle who was English but joined the Australian Army as a Light Horse man who then fought in both Gallipoli and the Middle East, is a wonderful connection for us. It truly gives us someone to think of on this day. Kind regards "
Joanne Tyler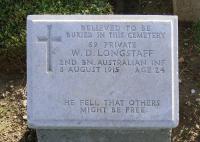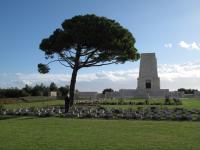 Lone Pine Cemetery
"ANZAC DAY 25th April 2013 - Thank you so much for the work that you do and the service you and your team provide. My mother was very moved when I gave her the photographs of the gravesite of her relative William David Longstaff who was killed in action at Gallipoli aged 23. This soldier's younger brother Richard John Longstaff, also killed in action at Gallipoli aged 21, is only remembered at the Lone Pine Memorial and so it was great to see and recieve the two images. Kind Regards"
Dana Higgins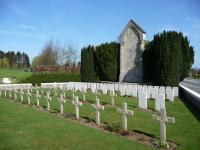 Crucifix Cemetery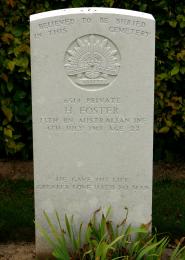 "ANZAC DAY 25th April 2013 - On ANZAC day I would like to thankyou for the picture of H.Fosterís headstone. He was my great, great uncle. When I showed it to my 89yr old mother she cried. First time she had seen it and we didnít even know it existed. So, once again Ė many thanks, "
Julie Ramsey