Messages of Thanks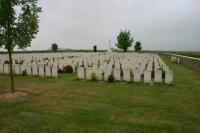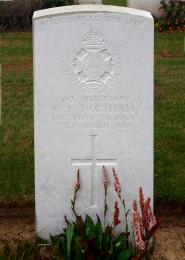 "8 March 2014 - My Grandmother died thinking her brother was MIA. In doing a family tree, I discovered that Wilfred in fact died in battle. To see his grave, is amazing beyond words. Thank you. I only wish my Grandmother could have known."
Karen Park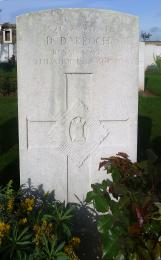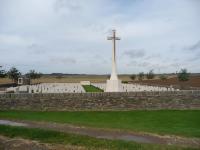 Roclincourt
"6 March 2014 - Dear TWGPP, Thank you, through the work of the War Graves Photographic Project, for helping me to track down the last resting place of my great uncle Donald Darroch. Service Number 352147, he is in Roclincourt Valley Cemetery in the Pas De Calais. His niece is 95 years old and the last remaining relative with a direct connection to Donald and his family. She has never known until now what happened to him except that he was killed in his first engagment. I will now be able to add a lot more detail to our Family Tree. Please thank your staff on behalf of Donald's niece and myself. Regards, "
Archie Darroch,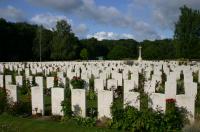 Dozinghem Cemetery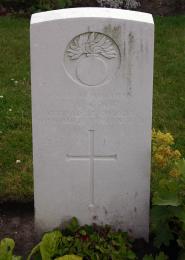 "01 March 2014 - Thank you so much. That is my grandfather's grave. The Internet continues to amaze and astound me. Blessings on the work you all do. I doubt that I will be able to visit this gravesite in my lifetime, but it certainly is wonderful to be able to see it and place these photos in the family collection. "
Gainor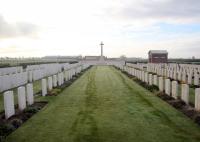 "27th February 2014 - Thank you so much for your speedy response , it is much appreciated. It was only fairly recently that I discovered my late father's cousin was a WW1 hero. I'm slowly but surely researching and found the Gazette announcement, the later published citation for his DCM and his medal card details from the National Archives. To have discovered last night a photograph was available of his grave was amazing, although I am disappointed to see what appears to be damage/erosion to the top corner of the memorial stone. My husband and I are hoping to visit the grave in October on the anniversary of his death. For those unable to visit their relatives' graves to see their final resting place the TWGPP provides a tremendous service. Kind regards, "
Jackie Harris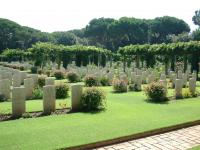 Beach Head Cemetery, Italy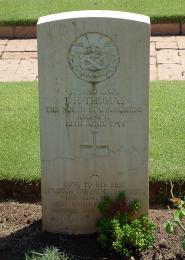 "20th February 2014-This is my uncle Tom's grave who my Mum always spoke about. I am over the moon that I have finally traced where his grave is. Unfortunately my Mum died 13 years ago without knowing where he actually was so this is for her :-) "
Josephine Jaw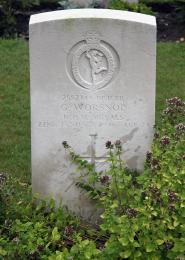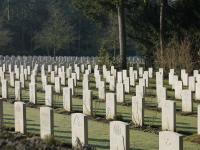 "16 January 2014 - Thank you so very much for the work you do! This is the grave of my Grandmother's beloved brother, who sadly died from a roadside bomb blast shortly after the war's end. Nearly seventy years later, and he's still keenly missed. It's wonderful to be able to reconnect with him in this way. Thank you for taking the time to photograph these graves. In addition to the gravestone photograph, please could I request any photographs you have of the surrounding area? It only recently occurred to me that my great uncle must be "out there" somewhere, and I'd never dreamed that someone would have taken the time to photograph his final resting place. I'll be sure to mention this project to friends - I'm sure some of them will come searching for such a reunion too"
Fahran Wallace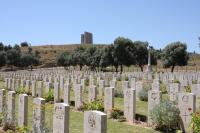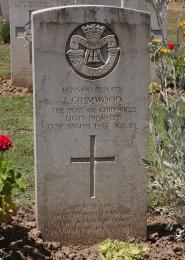 "4th January 2014 - Good evening The pictures of my great Uncle Jim's (Grimwood) grave in Bone Cemetery have just arrived, thank you so much. The photo of the headstone is stunning, absolutely great. I am seeing my aunty in a couple of weeks (Jim was her uncle) and can't wait to show her. She knows that we found where Jim is buried but not the headstone. She was 10 when he died and remembers him well. She says he was a lovely man and a big loss to the family. Anyway, thank you again for your help and for the pictures. They are such awesome things to have. Very best wishes, "
Allison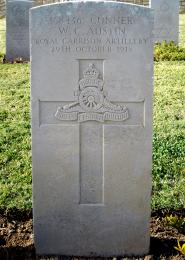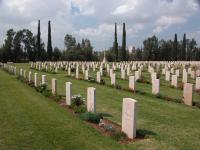 Ramleh Cemetery
"24th November 2013 - Dear TWGPP I want to thank you for the excellent service you provide through the WGPP. I requested a photo of my grandfathers ,Gunner W C Austins, grave in Ramleh cemetery Israel and this has now arrived. The quality is brilliant! This has completed some important family research for me as clearly I never knew him due to the war and it provides a link with somewhere that I will never visit. I really appreciated people like yourselves who devote so much time and effort to giving this service to families who have suffered loss in this way. Thank you again "
Mrs C W Lever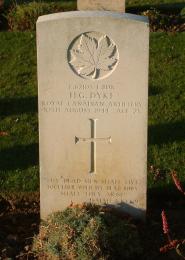 Dyke at Breteville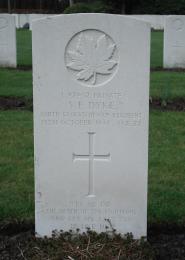 Dyke at Bergen Op Zoom
"13 November 2013 - Hi, My name is Jennifer and I\'m writing to you from Saskatchewan, Canada. I have just placed a war graves photo request with you for my two great uncles, Henry and Victor Dyke. My grandfather told me about them and their sacrifices when I was a teenager, and my interest in them and their experiences has led me to a deep and vested interest in pretty much everything concerning WWII. This past weekend ancestry.ca offered free access to their war records in recognition of Remembrance Day. Following links from there, I indirectly found my way to your organization and was thrilled to learn I could actually see their (my great uncles) final resting places. My grandfather is passed away, so unfortunately, I cannot share these images with him, but I feel very lucky to be able to add these pieces to the puzzle. One day, one of my greatest wishes is to be able to pay my respects in person as my grandfather never could. But for now I\'m very excited and thankful for the opportunity your organization has allowed those of us who want that connection, but cannot otherwise gain it, for not having it within their budget to travel overseas. My grandfather would have been deeply touched by this, and it\'s on his behalf that I thank you all for what you do. I sincerely appreciate and respect all of the work you have all put into this project. Organizations like yours are inspiring. Thank you. Sincerely yours, "
Jennifer Hunt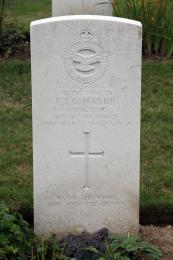 "25th October 2013 - Thanks, these are great. I am the nephew of F/O Harris who I never met and last Tuesday I tracked down in Canada the brother of Robert O'Sullivan who was the pilot of the plane the two were in when they came down. I spoke with the 84 year-old Mr Sullivan and he was so happy. No one from his family has ever visited the grave and I will send on the photo. This is a fantastic service you are doing. My mum, Ernie Harris's sister is still alive, and will be thrilled with these pics "
Best regards