Messages of Thanks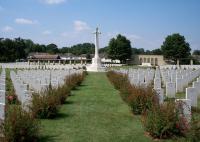 Ranville War Cemetery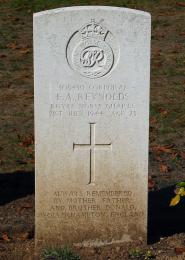 "10 November 2012 - It's wonderful to have this facility and we are indebted to TWGPP. Francis (Frank) was the older brother of my dad, and my dad never forgot Frank's number and would always visit the war memorial in Wednesfield, and the memorial on Frank's grandparents' grave at Heath Town, every Remembrance Sunday. Two decades ago my dad finally managed to get to Frank's grave, with my sister. My dad died in January (2012) but as I accompanied him from childhood, so I take my children to the same memorials on the same day. We will remember them - all. "
David Reynolds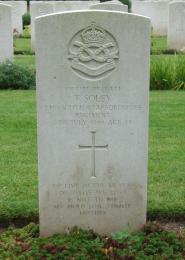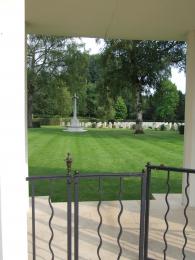 Cambes en Plain war cemetery
"10 November 2012 -Thank you so very much for these beautiful photographs. I have received the hard copies by post and I'm delighted with them. This soldier was my Uncle. My Dad (his brother) was in the Navy during the war and both bothers were miraculously at home on leave together the last time they were to see each other. Tommy was killed soon after and these photographs are all we have of him. Sadly, my Dad is no longer with us to see Tommy's burial place but it means so much to our family to have these photographs - we feel like it has re-united our family in some way. Thank you for all you and your fellow volunteers are doing in this effort - I hope you realise how important and cherished your work is. Kindest regards Doreen Nash "
Doreen Nash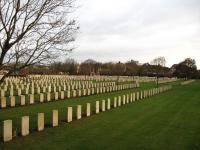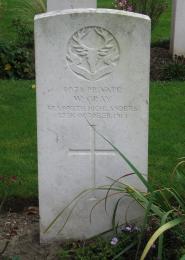 "9 November 2012 - I think this is a marvellous project and I am happy to support it. To the best of my knowledge, nobody from my family has ever been able to see this grave before, with the exception of an old black and white photograph taken at the time. His name was spelled incorrectly then, so it is nice to see that it's right on the new marker. Thank you so much for making this available. "
Robert Gray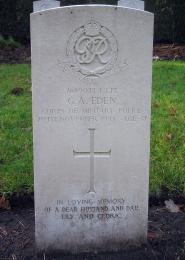 "8 November 2012 -Many thanks for e-mailing the war grave photograph of George Eden. He served with my father in the Second World War and perhaps having come from the Bradford area had something in common with my father, and they were quite good friends. George was very seriously wounded in 1944 and taken to hospital, though my father never knew where. All he found out later was that he had died from his wounds. When my father was next on leave my mother said that the first thing he said on arriving home was that 'George Eden had been killed' --it saddened him greatly. I wasn't born until after the War, so all this is what I was told by my mother. But each year as I grew up I always remember around Remembrance Day my father wondering what had happened to George and wondering where he was buried. I don't think my father really knew how to find out. After all, we didn't even have a telephone in those days. My father died 20 years ago but now with the internet I decided to find out what had happened all those years ago. To receive the photograph from you has been quite an emotional moment even for me, and I never knew George Eden. I just wish my father could have seen it. I shall put the photograph in the family album, alongside an old photograph of my father relaxing with other soldiers during an off duty period 'somewhere in Europe' towards the final stages of the War. After 68 years perhaps this will have in some sort of way brought a sense of closure for my father. And for me! Kindest regards and thanks for the work you are doing, "
John Hullah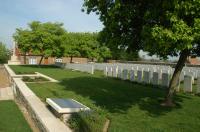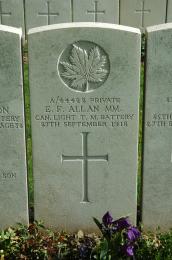 "6 November 2012 - Notes...I don't think "notes" is justified for the thanks I want to give your organization for the time and effort it takes to put a site like this together. I have looked for years for a photo of my Great Uncle's cousin grave marker. Thank you so much! "
Allan Scott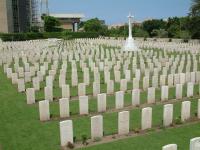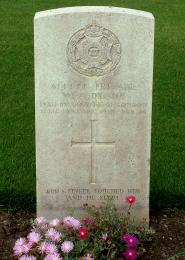 "6 Nov 2012 - Thank you so much! I am Walterís great Granddaughter. His grandson, my Uncle Tom, is 80 on Christmas day and wanted to visit the grave. I was hoping to take him as a birthday present but what with politics in Egypt not being great at the moment, plus his health I canít see him getting there. I really think a framed photo is going to make his day so thank you! Itís a wonderful service you offer and just goes to show the internet is amazing! Thanks again. Best regards, "
Natalie Forrester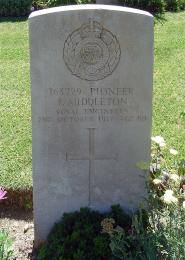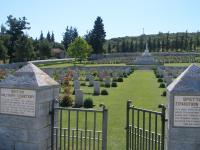 "26 October 2012-Many thanks for the prompt delivery of the photo. Yours is an an excellent and deserving project, only possible through dedicated volunteers. The headstone is that of a neighbour of my grandfather, (Pte. Patrick McGee); according to the recounted family story, they were both in Gallipoli together, but Pte. Middleton died from either wounds or maleria, possibly near Salonica. This makes sense when you see where the cemetery is located. My grandfather was the last Sligo man to see him alive, and had to bring this tale to his widow when he finally returned home in 1918. Interestingly, John Middletons' son, Johhny, is still alive, (aged 94, and born after his father died), as is his daughter, Auntie May, (aged 99), and until last year both still lived around the corner from me, at the address given on the war records. I spoke to a grandson of Pte. Middleton's this morning in town, and that is what prompted the enquiry. Amazingly, the family had no idea where their father was buried until about a decade ago when the CWGC came online. They will be thrilled with this photo. Many thanks for all the hard work and your group's dedication to a wonderful project. Regards "
Fiona Gallagher - Sligo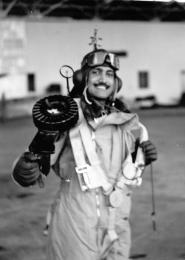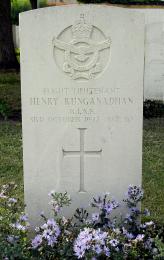 "19th October 2012 - Recently I received a wonderful e-mail from Patricia Braga in regards to her late nephew, Flying Officer Beaufort Petter, who was killed in an air accident on 3rd October, 1942. My late Father, Sqn Ldr Henry Runganadhan, of No. 1 Sqdn, RAF, who was one of the passengers on board the Lockheed Hudson being Captained by Flg Offr Petter, was also killed in that tragic accident. The grave photos of the Karachi War Cemetery and his grave brought tears to my eyes, and reminded me of the utter senselessness of their deaths. Patricia was kind enough to send me the name of your Organisation and credited you and your Team for having sent her the photos mentioned earlier. It is my hope that my brother, Vijay and I who have just now heard of these events, would be most grateful to you to kindly try and see if there exists a similar photo of the grave site of my late Father, that you could share with us. Thank you very much for your exemplary work with the War Graves Photographic Project and look forward to a favourable response, at your convenience. Dispatched the next day (Steve) "
Very Sincerely, Arjun Runganadhan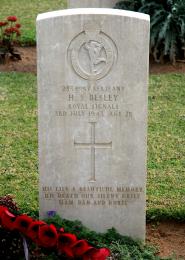 Besely at Tripoli war cemetery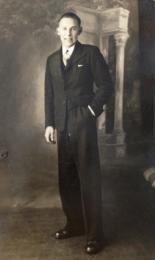 "19th October 2012 - Can't tell you how touched I am once again by the fact that the TWGPP has brought joy to another family out of such tragic circumstances. I showed the grave photos to his sister Doris,now aged 93 and she was very pleased, she has seen the grave site previously on photos but not the actual headstone. She didn't know that her name was on it. This is really great that she got to see it. Thank you. " Best wishes, "
Claire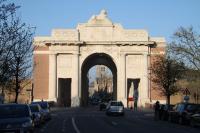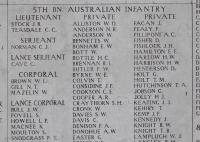 "23 September 2012 - I have just ordered (now received Ė thank you so much) a photograph from you regarding my late uncle Harry William Harrison who died 20 Sept 1917. In researching my family history my Dad who is now 85 often wondered about his uncle who he never met but had died aged just 21. He recalls a photo of Harry sitting beside a War medal on the mantelpiece at his parents place in the 1940s. We managed to find a copy of the photo but the medalís whereabouts is unknown. I have a copy of his War Record from the Australian National Archives and over the last few days have been searching the internet for information about Ypres / Glencorse Wood and came across a couple of sites about the Battle of the Menin Road 20 September 1917 and the Menin Gate Memorial. And then the link to The War Graves Photographic Project. It brought tears to my eyes that after some 95 years we are able to gather together more of Harryís story. Dad will be overjoyed. Kindest regards "
Helen McLean