Joining forces with the Commonwealth War Graves Commission
It is with great pleasure that The War Graves Photographic Project is now recognised by the CWGC and is regarded as a joint venture in providing photographs of Commonwealth forces war graves. Working in parallel with them considerably helps both organisations by bringing together two significant archives.
This has been achieved by constructive talks between the directors and staff at CWGC HQ at Maidenhead in Berkshire where a relationship has been building over the years. The CWGC appreciate the significance of our dedicated team of volunteers who work as individuals, or in organised groups in such a venture which aims to Remember in Perpetuity.
TWGPP is now directly linked to the CWGC casualty pages for easier access to our images.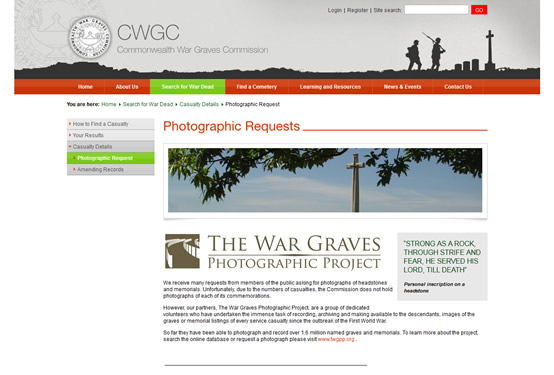 To find out more about the Commonwealth War Graves Commission please download the PDF file via the link in the column to the right.
The War Graves Photographic Project would like to thank the Commission and its staff for their help with the project.
QUICK SEARCH
Advanced Search &
Ordering Photos
DOWNLOADS
About the CWGC (PDF 690 KB)
Downloads are available as pdf files and you will need Adobe Reader to access them. If you do not have Adobe Reader, you can download it from the Adobe Website.

LINKS
the Commonwealth War Graves Commission (www.cwgc.org)
War Graves & Battlefields Heritage (www.wargravesheritage.org.uk)